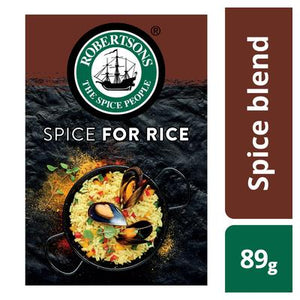 A good rice dish is the perfect side for any classic South African meal. Robertsons makes it easy to create a delicious rice dish with no fuss. This Spice for Rice is vegan-friendly and contains a flavourful balance of turmeric, coriander, nutmeg, paprika, nutmeg, celery, and sage for a bowl of perfectly seasoned rice. Robertsons focuses on maintaining quality and flavour with this non-irradiated spice. There are no genetically modified ingredients, artificial colourants, preservatives or added MSG in this Robertsons expertly blended spice for rice. Robertsons Spice for Rice Refill is certified Halaal and Kosher, so you can use it with confidence to create healthy meals for your family to enjoy and discover new worlds of flavour. Robertsons Spice for Rice Seasoning is developed from the finest quality ingredients, sustainably farmed and carefully selected to deliver fresh, delicious flavour. Your family will love your home cooking even more when you add this Robertsons spice for rice envelope to your spice rack. Keep your Robertsons seasoning in a spice rack in a cool, dry spot, away from heat and steam. Humidity and steam can cause clumping, making it harder to shake herbs and spices from the pack. Use a dry spoon to measure and deliver this spice straight from the carton.
Customer Reviews
100
reviewers would recommend this product
Write a Review
Ask a Question
I recommend this product
My favorite spice
Fresh... Good quality... Happy to buy this again... Fast delivery...