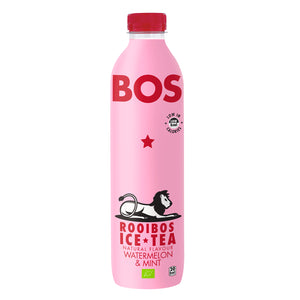 Cool off with a fresh burst of summer flavor with Bos Ice Tea Watermelon Mint 1L. Made with 100% natural tea extract, this sweet and refreshing quencher is the perfect way to beat the heat. Try it today and feel the deliciousness in every sip! ???? 
It combines the sweet scent of watermelon with the cooling flavor of mint for a truly unique experience. Containing no artificial sweeteners and just 8 calories per serving, its perfect for those looking for a healthy way to hydrate.
Ingredients: Water, Cane Sugar, Citric Acid, Watermelon flavouring, Organic Rooibos Extract (105 mg/100 ml), Ascorbic Acid, Chelating agent, Preservatives (Potassium Sorbate, Natamycin), Mint flavouring.