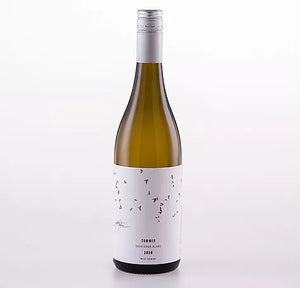 Appearance
Colour and intensity: medium lemon
Nose
Medium+ intensity Primary aromas: white pear, elderflower, chamomile, white flesh nectarine, green passion fruit, lemongrass, bay leaf, white pepper, green olives, grass sprouts. Secondary: cheese rind, almond skin, dried thyme, wet soil, and forest floor. Tertiary: none, the wine is youthful.
 Palate
The wine has a medium-plus acidity, medium alcohol leaning over to the higher side, medium body, and medium flavour intensity. The same aromas on the nose are repeated on the palate, albeit more muted, with a more piercing lemony character and pithy aftertaste for a medium-plus finish. The piercing acidity is met with equally sturdy alcohol, although neither are out of kilter but balancing each other to help create the backbone of this wine. The wine's length is built with cool and refreshing aromas poised on a textural, briny palate. The wine has a medium intensity, quite vivid on the nose but more austere in its youth on the palate. The same goes for concentration. It is timid compared to more pronounced Sauvignon Blancs, but the wine will certainly tick the boxes as a food companion if the intent was a more restrained and textured wine. Be sure to serve an antipasti platter to compliment this wine. Or, if you want to go all out, serve it up with a clam, roast tomato, and dry martini risotto.