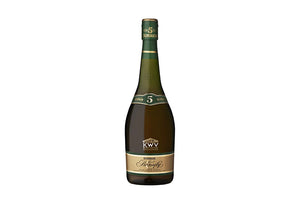 KWV 5 year brandy produces a splendid mix of fruity flavours after being aged for 5 years in oak barrels.
Produced from grapes from some of the best viticultural regions in South Africa, KWV is regularly hailed as pioneers of wine and brandy since their early beginnings dating back to 1918.
At the 2017 World Brandy Awards, their 5 Year release was awarded a silver medal. More recently, it was named a category winner at the same awards in 2018. Enjoy this fine bottle of brandy on its own or with ice and your mixer of choice.