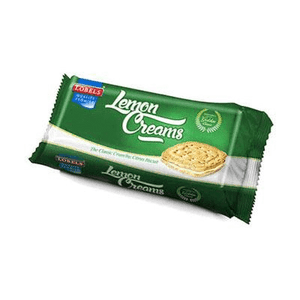 Lobels Lemon Creams offer a classic snack experience, made with pure and simple ingredients. Their delightful lemon flavour provides an enjoyable snack to enjoy on its own, or even with a hot beverage. With over 80 years of baking experience, Lobels continues to provide delicious and flavourful treats.
The delicious and flavourful lemon creams are perfect on their own, or to go with a hot cuppa!

Ingredients
Lemon Creams 200g: Wheat Flour (Gluten), Vegetable Oil (Palm Fruit), Sugar, Syrup, Salt, Raising Agents: (Ammonium Bicarbonate (E503), Bicarbonate of Soda (E500)), Corn Flour, Flour Improver: Sodium Metabisulphate (E223), Protease Enzyme. Cream Filling: Sugar, Corn Flour, Citric Acid, Flavouring, Salt, Lecithin (E322)(Soya), Colourant: Sunset Yellow (E110).
ALLERGENS: Wheat (Gluten), Cow's Milk, Soya