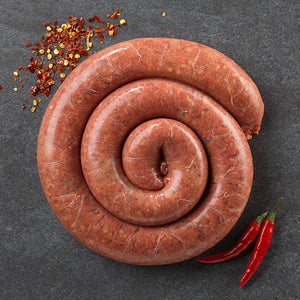 MADE WITH PORK AND BEEF Our Chakalaka Braaiwors is spiced with coriander, black pepper, chilli flakes and chakalaka spices. ground beef & pork made to a traditional South African recipe.
The secret in making superior boerewors lies in the quality of the ingredients used and the hands and hearts behind it. The Savanna uses only the highest quality products and has exceptionally talented butchers who love what they do, and it shows! Our boerewors is made from the leanest cuts, mixed with authentic South African spices.
Please read our Shipping T's & C's before placing a fresh order with us.