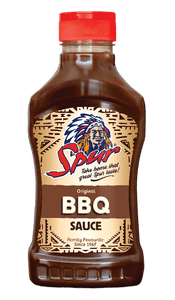 GENEROUSLY POUR THE SPUR BBQ SAUCE OVER ANY MEAL TO GIVE IT THAT GREAT SPUR TASTE.
Tangy and subtly sweet with the delicious smoky flavour you've come to know and love, this family favourite is a must-have pantry staple. Whether you are making a cheesy biltong soup or making a Braai. Our BBQ sauce is perfect for marinating meats to tender perfection or you can simply serve alongside chips, burgers, steaks, boerewors and chicken to provide a flawless finishing touch.
Spur BBQ Sauce is available in a convenient 500ml squeeze bottle, perfect for use on the table, or an easy option to pack up and take along on outings.
This product is vegan-friendly and contains no animal products.
This product is Halaal certified and Kosher certified.