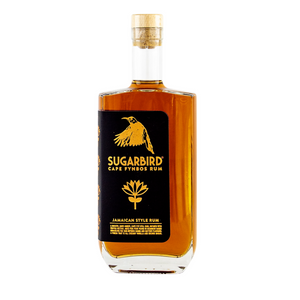 SUGARBIRD CAPE FYNBOS RUM
A celebration of our unique Cape fynbos heritage married with the rich complexity of a pot still, Jamaican-style rum. Triple distilled blackstrap molasses and aged for four years in bourbon barrels, enhancing its rich golden colour, vanilla notes and sun-drenched, fruity flavours. Infused with protea nectar, our rum pays homage to its Sugarbird roots. 
Expect notes of vanilla, cocoa, and coffee layered with notes of nuttiness. Sugarbird Cape Fynbos Rum is silky and buttery to the finish with a smoothness to rival any of its competition.