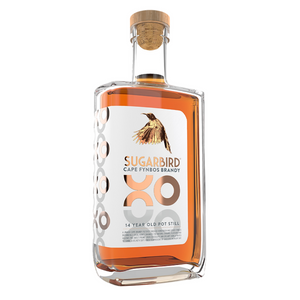 SUGARBIRD CAPE FYNBOS XO BRANDY
14-year aged pure pot still brandy that has been aged in old French Oak barrels for a decade and a half. The golden liquid has flavours of dried peaches, dates and raisins, delivering a balanced, lingering after-taste. Once matured, it is filtered through honeybush and other fynbos botanicals to give it the true Cape fynbos character that you've come to expect from Sugarbird.
It is best enjoyed neat or on the rocks to truly appreciate its smoothness and warmth.