Banhoek Chilli Oil Pomodoro Soup Recipe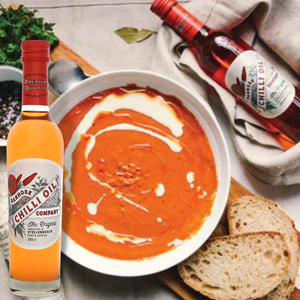 Pomodoro Soup Recipe
By Banhoek Chilli Oil
SERVES: 2 - 3
DIFFICULTY: EASY
PREP & COOK: 50 MINUTES
Ingredients:
• 30ml Banhoek Chilli Oil
• 2 Tbsp Vegan Butter
• 3 Bay Leaves
• 5ml Cumin
• 5ml Smoked Paprika
• 2 Tbsp Sugar
• 10g Parsley (chopped)
• 10g Basil (chopped)
• 10g Garlic (crushed)
• 1/2 Onion (chopped)
• 500g Tomatoes (chopped)
• 2 Tbsp Tomato Paste
• 250ml Vegan Chicken Stock
• 125ml plant-based Cream
*Season to taste.
METHOD:
In a medium-size pot on a low heat, melt the vegan butter. Add Banhoek Chilli Oil, garlic and chopped onions and sauté until onions are transparent.
Add the bay leaves and all the spices then stir to mix through. Cook for 5 minutes, stirring regularly.
Add the tomato paste and sugar and cook for 2 minutes.
Add the vegan chicken stock and the tomato and cook until tomatoes have softened.
Add the parsley and basil and cook for a further 2 minutes.
Add the plant-based cream and cook for 2 minutes.
Remove the bay leaves, blend the mixture until preferred consistency and season to taste. Serve with croutons or fresh bread.
Serve while hot and enjoy this cozy season!