BRAAI vs BBQ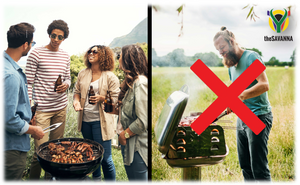 WHAT IS THE DIFFERENCE BETWEEN A BRAAI AND A BBQ?
The word braai, which comes from the Dutch braden, meaning 'to grill', is an abbreviation of braaivleis meaning 'grilled meat'. It actually means to roast over coals and comes from the word braaivleis.
The origin of the word "barbecue/barbeque" comes from the Caribbean word "barbacoa." Originally, a barbacoa wasn't a way of cooking food, but the name of a wooden structure used by Taino Indians to smoke their food. The difference between barbecuing and grilling. When you barbecue you are cooking with a slow circumvented unit of hot air with the lid closed. Grilling is done with the lid up and you're cooking with direct heat on the bottom, instead of all around the source.
MAN MAKES FIRE
The main difference between a braai and a BBQ has to be the fire. A braai just isn't considered a braai if cooked on a gas grill. People will gather around the fire after eating and spend the rest of the day or evening there. We never braai alone. We can braai in any weather. Unlike a BBQ, braais are not strictly reserved for warm weather. We can braai on a covered patio, making rainy weather irrelevant to the occasion. It's a process with strict rules. At most braais, there's only one "braaier", normally the host, who regards himself as the Braaimaster! Backseat braaing is seriously frowned upon. Each braaier has certain methods and gadgets that they always use, and not allowing anyone to tell them otherwise may be an unspoken rule. It isn't a braai without the "dop" "Dop" being any alcohol. Favourites of which include: Beer, Wine and Brandy.
ITS A STRICT PROCESS
WITH RULES
A braai revolves around the fire, and the food. The food is cooked on (as the name of the gathering would suggest) a braai, which is basically a grill. But you won't find gas on this grill! In fact, better not mention the word gas or you will get looked at like you just passed some! A major difference between the two types of  Cooking is that South African's use wood or briquettes (charcoal) when they braai.