Cheesy Corn Baked Gem Squash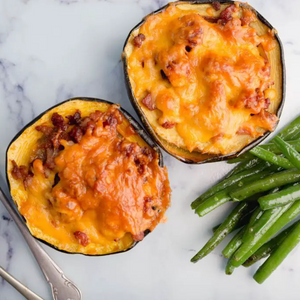 Introducing our Cheesy Sweetcorn Gem Squash recipe
A delightful dish that's perfect for bringing the family together around the dinner table. This simple yet delicious recipe takes the humble gem squash to new heights, transforming it into a cheesy, sweet, and savory sensation that will have everyone asking for seconds. With its rich flavors and comforting textures, this dish is a true crowd-pleaser, making it an ideal addition to any family mealtime. 
*This recipe serves as a side dish for 3-4 people.
Ingredients:
3 Gem squash.

1 can of Koo Creamstyle Sweetcorn.

1/2 cup grated cheddar cheese.

Robertsons Garlic Flakes.

Robertsons Paprika.
Method:
Preheat the oven to 200C & Line a baking tray with tin foil.

Cut each gem squash into two halves and scoop out the seeds.

Spoon in the creamy corn evenly in each of the 6 halves.

Lightly sprinkle paprika and garlic flakes on top of the creamy corn mixture.

Top each gem squash half with grated cheese.

Pop into the oven and bake for 35 minutes until bubbling and golden on top.
Wait to cool slightly and enjoy!