Chilli Chocolate Tart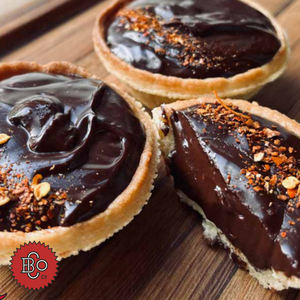 Chilli Chocolate Tart
Recipe by Banhoek Chilli Oil
Serves: 15
Difficulty: Very Easy
Prep and Cook: 20 minutes
Ingredients: 
4.5 slabs 70% dark chocolate
250ml cream
4 tbsp butter
30ml BANHOEK CHILLI OIL
15 store bought mini sweet tart shells (defrosted)
Method:
Add the cream to a small pot on medium heat until bubbling starts around the edges.
Place the chocolate in a heatproof bowl and pour the hot cream over the chocolate and leave it to stand for 5 minutes.
Whisk the chocolate cream till smooth.
To help smooth out the cream, microwave the cream on the lowest setting at 10-second intervals and whisk in-between until the chocolate cream is beautifully smooth.
Add the Banhoek Chilli Oil and whisk until fully incorporated.
Pour the chocolate mixture into the tart shells and place in the fridge for 1 hour.
Serve with ice cream or enjoy as a sweet treat or dessert.