Pumpkin Soup with Banhoek Chilli Oil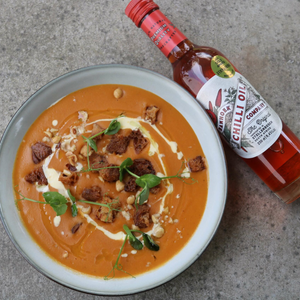 Banhoek Chilli Oil Pumpkin Soup
Ingredients:
+-1.2 kg whole pumpkin (chopped)
1 medium onion (chopped
400 g potato (peeled and cubed)
20 ml Banhoek Chilli Oil
50 g butter
2 cloves garlic (peeled and chopped)
1/4 cup sauvignon blanc
1 cup stock (veg/chicken/beef)
1 tsp smoked paprika
1/2 tsp all spice
1/4 tsp cayenne pepper
250 ml pouring cream
Method:
Pre-heat oven to 200 degrees celsius.
Cut the pumpkin in half lengthwise and remove the seeds.
Place pumpkin skin side up in a big enough oven tray and add water (about 1cm), cover with foil and bake for 40-45 minutes.
While you're waiting, cut the onion and garlic and set aside.
Peel and cube the potato and place in water.
Take a big enough pot, add the Banhoek Chilli Oil, butter and sauté onions and garlic on low heat until translucent.
Add the wine, let the alcohol cook off.
Add the stock and potato and simmer until potato is completely soft.
Remove from heat.
Pumpkin: After 40 minutes, take a fork and pierce the skin of the pumpkin. If there is no resistance, pumpkin is completely cooked. With a spoon, remove all the flesh and add to the pot with potato.
Add all the spices and cream and cook for another 5 minutes on low heat, stirring occasionally to prevent burning.
Blend till smooth
Serve and enjoy with freshly baked bread, toasted bread, croutons or even toasted crushed hazelnuts.
Optional variations:
You can add protein (bacon, chicken or beef)
Vegan substitutes:
Swap cream for extra veg stock or milk alternative
Swap butter for coconut oil, rapeseed oil etc.