SPICY PEANUT & TOFU NOODLES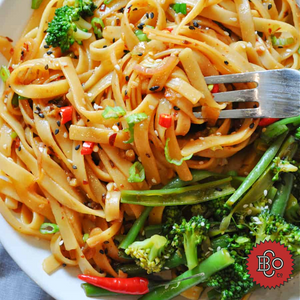 SPICY PEANUT & TOFU NOODLES 
By Banhoek Chilli Oil
SERVES: 2
DIFFICULTY: EASY
PREP & COOK: 50 MINUTES
INGREDIENTS:
• 1/2 block firm tofu
• A serving of noodles
• 1/4 aubergine/egg plant
• small handful broccoli
• small handful sugar-snap peas
• sesame seeds
Tofu & veggie sauce:
• 1 tbsp Banhoek Chilli Oil
• 1 tsp garlic
• 1/2 tsp Chinese 5 spice
• 1/2 tbsp hoisin sauce
• 1/2 tsp white rice vinegar
• 1 tbsp soy sauce
• 1 tsp maple syrup
• 1/2 tsp pepper
Noodle sauce:
• 1 tbsp smooth peanut butter
• 1 tbsp Banhoek Chilli Oil
• 1 tbsp soy sauce
• 1/2 tsp white rice vinegar
METHOD:
1. Drain and press your tofu. Cut into small cubes.
2. Add the tofu to a frying pan with a tiny bit of oil so it doesn't stick. Add the chopped aubergine, broccoli and sugar snap peas to the pan.
3. Cook for around 5 minutes on medium heat.
4. In a small bowl combine the chilli oil, garlic, Chinese 5 spice, hoisin sauce, white rice vinegar, soy sauce, maple syrup and black pepper.
5. Add the sauce to the tofu and veggies and stir until everything is combined. Cook for a further 5 minutes.
6. Cook the noodles according to package instructions. Once cooked set aside.
7. In another small bowl, combine the peanut butter, chilli oil, soy sauce and white rice vinegar. Stir until it forms a smooth sauce and add a little bit of water (2 tsp) to help it become smoother.
8. Drain the noodles and pour the sauce on top. Mix until well combined.
9. Serve the noodles in a bowl and add the cooked tofu and veggies on top.
Sprinkle some sesame seeds for garnish and enjoy!
Recipe created by - @VEGANSHANNON