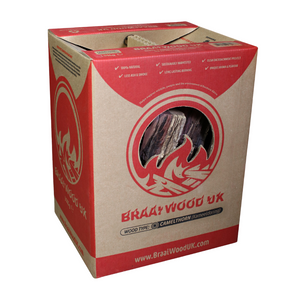 Kameeldoring burns with minimal flame, a musky aromatic fragrance and creates serious amounts of charcoal. This is a superb cooking wood, is perfect for fire pits and chimeras and has exceptionally long burn time!

Kameeldoring has the lowest moisture content of any wood as it's baked by the African sun to between 0 to 1 % moisture content. If you compare this to a Kiln dried or domestic firewood which ranges between 20 – 30% moisture content, it's extremely dry, rock hard and heavy which is why it takes so long to burn with an extremely hot output of heat
Amazing long burn times, virtually zero smoke production, no wasted energy burning off extra moisture and the very best return in calorific value terms that money can buy.